What type of hats do you use, particularly when you'll be going into cooler temps?
Have any of you used down hats? Any issues with wetting them out with sweat?
I just received this down beanie from Black Rock Gear.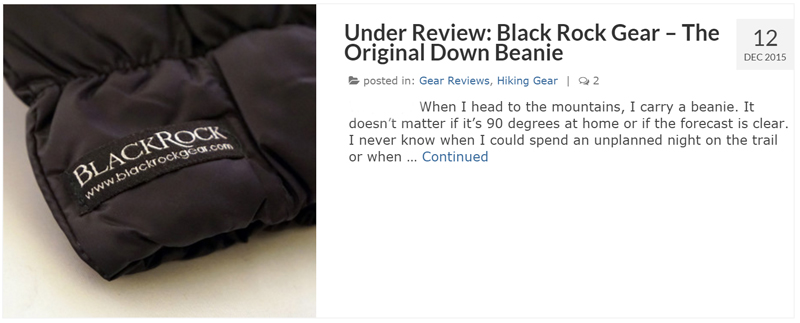 When I first learned about this hat, I figured its principle use would be for hanging around camp or sleeping, but others mentioned hiking in it.
I sent an email to Black Rock Gear for some clarification on the hat's intended use and temperature range.
"Temp rating is very subjective and really depends on the person and activity. I would consider our beanies to be warmer than your standard heavy knit wool ski hat. So taking that as a starting point people will wear them in anything from sub zero temps up into the 50's. I've had the hats used up on Everest and K2 along with people wearing them on summer and winter hikes of the PCT and AT. So really anywhere people wear a normal ski hat you'll find people wearing ours.
I would personally consider them to be perfect in temps in the 20's and 30's, but that is just me.
I think you will find they are so warm for their weight that you'll have to drop other layers when the hat goes on. I've had numerous customers tell me things like "my head didn't know it went outside" when they wear their beanie. Or that it was so light and had such a good temperature range they wore the thing for their entire back country trip and it never left their head."
Do any of you own anything from Black Rock Gear? You can seen some photos of the beanie here:
Under Review: Black Rock Gear – The Original Down Beanie